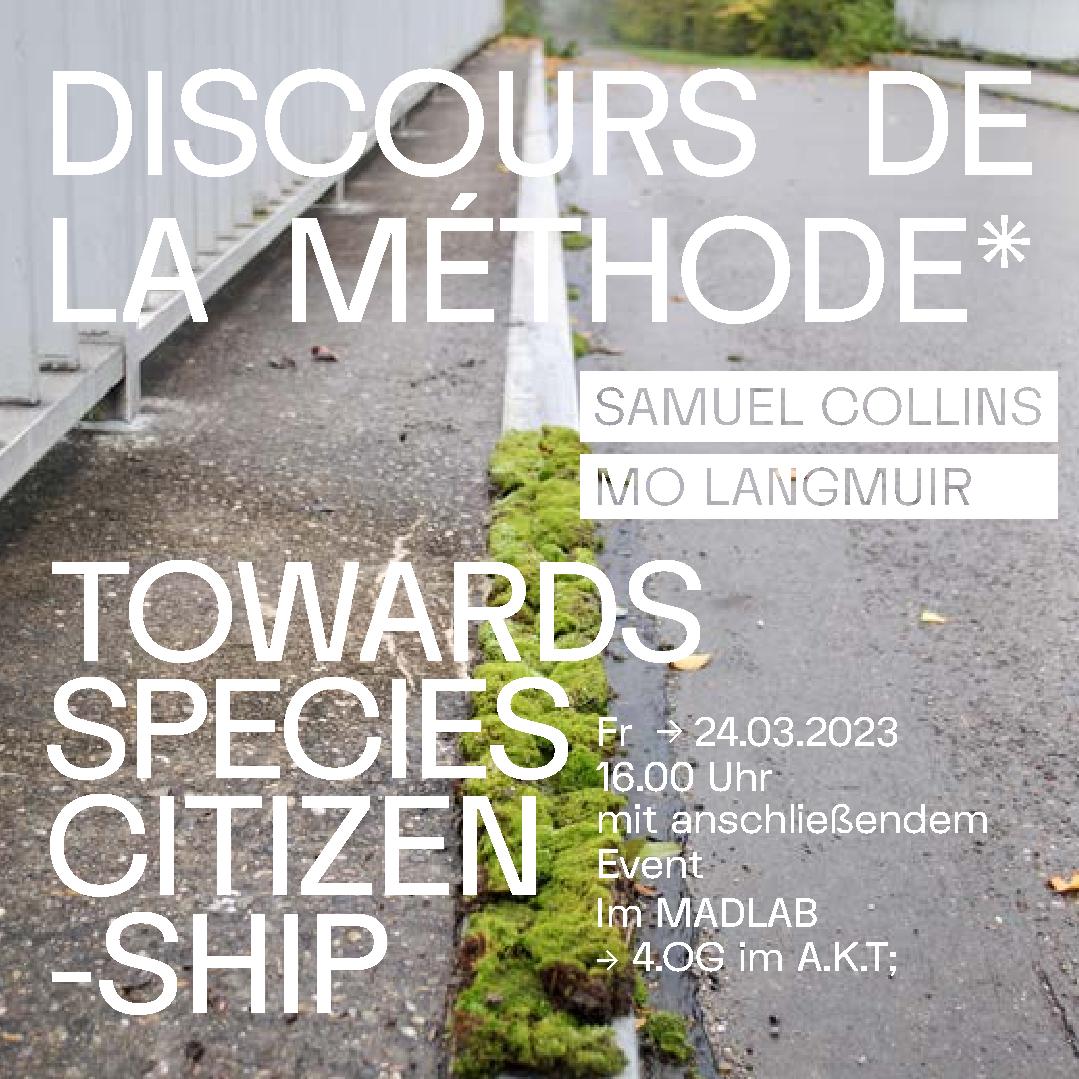 "Towards Species Citizenship" with Mo Langmuir & Samuel Collins.
Friday, March 24, 2023, 4:00 p.m. MADLAB, 4th Floor A.K.T; followed by an event at LAF.
Towards Species Citizenship (Mo Langmuir & Samuel Collins) is an artistic collaboration that expands the scientific definition of "species" to see life in all its forms, while relating their work to the current political framework. Her work emerges from collaborations with the entire environment: local experts, fellow artists, scientists, folklore, environmental elements, and the non-human community.
Samuel Collins is a spatial artist based in Copenhagen and London. He earned a BA in Architecture at the University of Sheffield (2013-2016), followed by an MA in Political Architecture on Critical Sustainability at the Royal Danish Academy of Architecture, Design & Conservation (2016-2018). In 2019, he co-founded the spatial practice STRL_ (The Strollological Technical Research Laboratory) with Sho Murayama. Their work focuses on landscape and ecology, using walking as the primary mode of environmental perception and interaction.
Mo Langmuir is a multidisciplinary artist who uses social art to explore the human condition on a shared planet, extending traditional Western science and knowledge systems to create ecological futures. After graduating from the University of Nottingham with a degree in Environmental Biology (2014-2018), she foregrounds process in her work. After graduating, Langmuir worked in ecological research and environmental arts education for projects in Nottingham/UK, Malta, and the Caribbean. Today, she leads trauma-informed art and nature workshops for refugees, non-EU migrants, and asylum seekers, connecting newcomers to their new environment.
A collaboration with Leerstand als Freiraum e.V. and MADFM as part of the event series "Shared Spaces".
Translated with www.DeepL.com/Translator (free version)