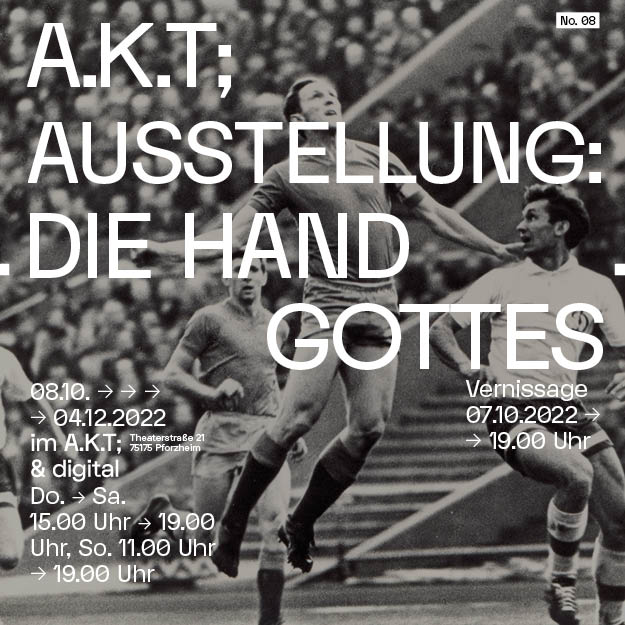 Soccer is a mass phenomenon, a spectacle that excites and electrifies people on all the world's continents. For many fans, the game is a great passion and sometimes even takes the place of religion. All over the world, soccer players or coaches are idols to so many.
Sports are closely woven into numerous areas of society, therefore often mirroring society itself. Time and again, soccer has been and is serving as a basis for social debate. Most obvious topics are the marketing and the commercialization of sports, diversity, or the violation of human rights in context with the World Cup that will be held in the desert state of Qatar at the end of 2022.
The exhibition "The Hand of God" compiles and considers the many aspects of soccer, the sport that inspires millions, brings cultures together and is used and misused by policymakers for positive just as much as for negative propaganda.
Artistic management: Janusz Czech, Lisa Schlenker (assistant)
Vernissage
October 7, 2022
7.00 pm
at A.K.T; Theaterstraße 21, 75175 Pforzheim
Welcome address: Janusz Czech, artistic manager of A.K.T;
Talks with: Ronny Blaschke, journalist, author and presenter, Shary Reeves, presenter and former soccer player and Klaus Theweleit, cultural analyst.
Host: Nora Hespers, free-lance journalist and moderator of "Sport inside" Podcast
On the night of the vernissage, the exhibition will be open from 7.00 pm to 10.00 pm.
Opening hours
Thurs to Sat 3.00 pm -7.00 pm
Sun 11.00 am -7.00 pm